The Selling Process
The first thing to do is find the right agent to represent you and your interests. Since 1995, Todd has sold hundreds of homes using a combination of aggressive marketing, home staging ideas, market research and consistent communication. This combination has enabled his clients to sell their homes for an average of $7501 more than the general market in 2014 and 2015. In fact, Todd's clients have netted over $300,000 more than average sellers in just the last two years!
While money is important, so is your life, your family and your sanity. Don't be surprised when Todd asks you questions about your home selling goals. What is most important to you about the sale of your home? Has anyone ever asked you that? Your time spent with Todd will be focused on you and your home.
Selling your home can be exciting and stressful. Todd's team will be there to handle the details for you - patient, professional and friendly every step of the way!
Pricing Your Home

The asking price you set for your home significantly affects whether you will profit in the sale, how much you will profit and how long your home will sit on the market. Todd's knowledge of the overall market and what's selling – or not selling – will be invaluable in helping you determine price. The objective is to find a price that the market will bear but won't leave money on the table.

Buyers and Sellers Determine Value: the value of your property is determined by what a buyer is willing to pay and a seller is willing to accept in today's market. Buyers make their pricing decision based on comparing your property to other properties SOLD in your area. Historically, your first offer is usually your best.

Time: Time is not on your side when it comes to real estate. Although many factors influence the outcome, perhaps time is the biggest determinant in whether or not you see a profit and how much you profit. Studies show that the longer a house stays on the market, the less likely it is to sell for the original asking price. Therefore, if your goal is to make money, think about a price that will encourage buyer activity (fair market value).

If you want to compete, be competitive.
The buying market has a short attention span.
Pricing your home right the first time is key.
Proper pricing attracts buyers.
An overpriced house will not sell.
We want to generate offers before the market moves on to newer listing
The first 30 Days Are Critical.
A property generates the most interest when it first hits the market.
The number of showings is greatest during this tie if it is priced at a realistic market value.
Starting too high and dropping the price later misses the excitement and fails to generate strong activity.
Many homes that start high end up selling below market value.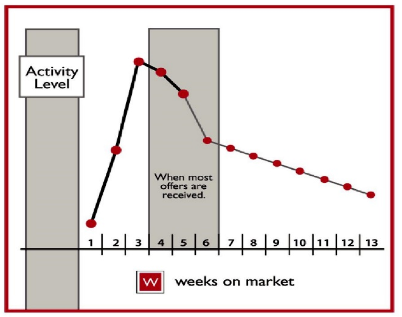 Value vs. Cost: Pricing your home to sell in a timely fashion requires some objectivity. It's important that you not confuse value with cost – in other words, how much you value your home versus what buyers are willing to pay for it. Don't place too much emphasis on home improvements when calculating your price, because buyers may not share your tastes. For instance, not everyone wants all hardwood floors or stone countertops.
Keep It Simple: Because time is of the essence, make it easy for the buyers. Remain flexible on showings and avoid putting contingencies on the sale. Though a move-in date that is convenient for you may make for a smoother transition between homes, it could cause you to lose the sale altogether.
Preparing Your Home – Increasing Your Home's Appeal
Remember the 60-second rule: That's all the time you have to create a winning first impression. Here are some simple to significant ways to maximize your home's appeal.

Exterior
Keep the grass cut and remove all yard clutter.
Weed and apply fresh mulch to flower beds.
Apply fresh paint to wooden fences.
Tighten and clean all door handles.
Clean windows inside and out.
Power-wash home's exterior.
Ensure all gutters and downspouts are firmly attached and functioning.
Paint the front door.
Buy a new welcome mat.
Place potted flowers near the front door.
Interior
Evaluate the furniture in each room and remove anything that interrupts "the flow" or makes the room appear smaller. Consider renting a storage unit to move items off-site.
Clean and organize cabinets, closets and bookshelves.
Clean all light fixtures and ceiling fans.
Shampoo carpets.
Remove excessive wall hangings and knick knacks.
Repair all plumbing leaks, including faucets and drain traps.
Make minor repairs (torn screens, sticking doors, cracked caulking).
Clean or paint walls and ceilings.
Replace worn cabinet and door knobs.
Fix or replace discolored grout.
Replace broken tiles.
Replace worn counter-tops.
Special details for showings
Turn on all the lights.
Open all drapes and shutters in the daytime.
Keep pets secured outdoors.
Buy new towels for bathrooms.
Buy new bedding for bedrooms.
This is a general overview and there are additional details along the way. Don't worry, Todd has helped hundreds of people sell homes. With Todd's help, you can do this. Questions? Call or email Todd.